Light Summer Pasta Recipe by Teri Turner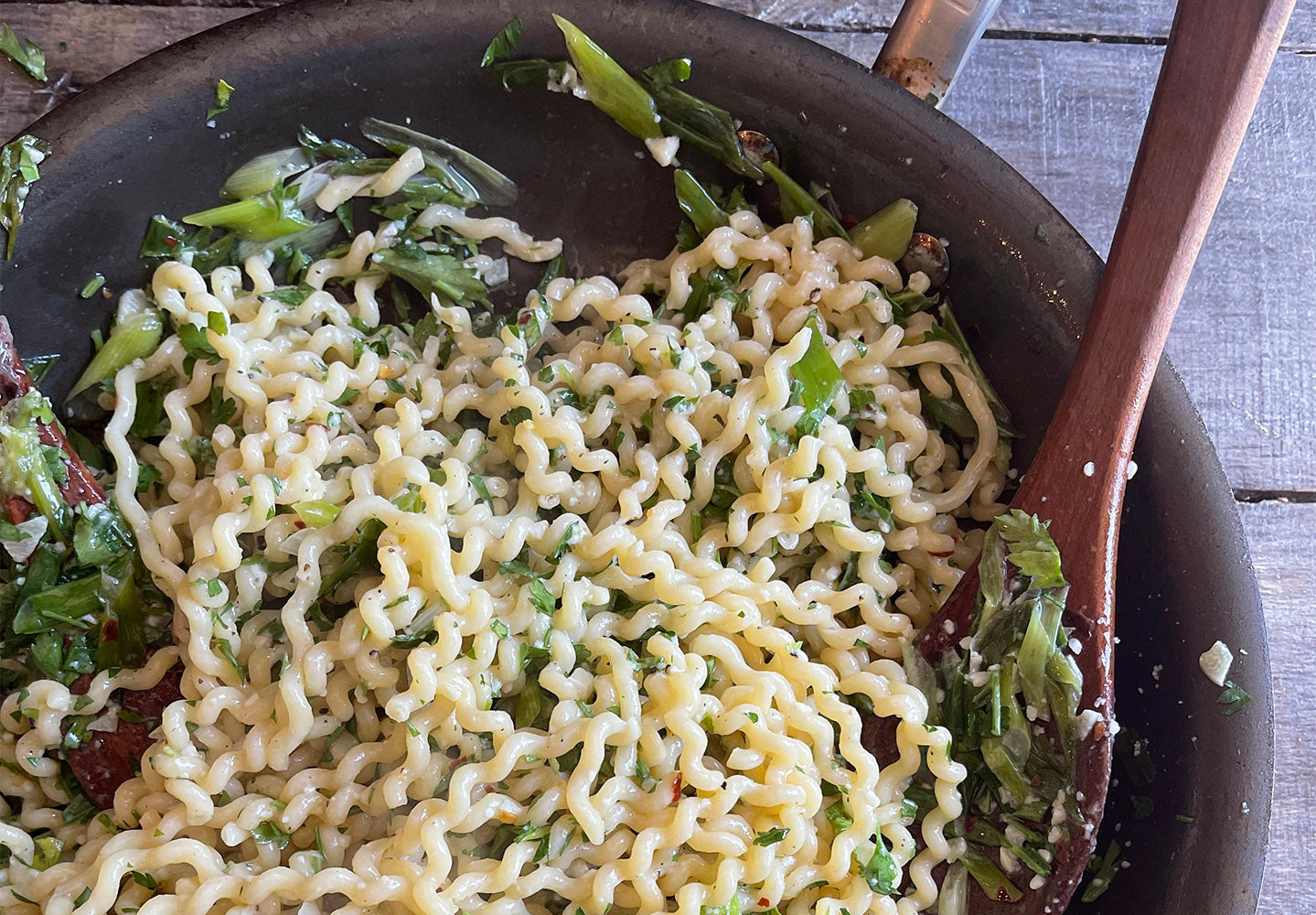 Prep Time: 10 minutes
Cook Time: 20 minutes
Total Time: 30 minutes
Yield: 4 servings
Ingredients:
2 tablespoons plus 1/2 teaspoon salt, divided
1/4 cup nice olive oil
1 bunch scallions, clay cut, about 4 ounces
3 large garlic cloves, chopped
1/2 teaspoon red pepper flakes, plus more for serving
3 tablespoons butter
1 pound pasta, we used long fusilli
1 bunch parsley chopped medium, about 1 cup
4 oz block of Romano cheese, grated (about ½ cup)
1 lemon, quartered
Tools:
10-12" Sauté pan
Stock pot/pasta pot
Tongs or pasta spoon
Measuring cups & spoons
Directions:
Bring 4 quarts of water to boil with 2 tablespoons of salt over high heat.
Heat your olive oil in a medium pan over medium heat.
Add scallions and garlic and sauté for 2 minutes.
Add remaining ½ teaspoon of salt and the red pepper flakes and stir.
Add butter and stir in until melted and turn off heat.
When your water is at a roaring boil, add pasta and cook to package directions (for our fusilli it was about 11 minutes).
When the pasta is al dente, scoop the pasta out of the water using tongs or a pasta spoon and add to the sauce and finish cooking in the sauce, with the heat still off, stirring well. Reserve ¼ cup of the pasta water if using regular (not GF) pasta.
Add parsley and 1/2 cup of the Romano cheese and toss. Add 1/4 cup of pasta water if using regular pasta.
Serve with a squeeze of lemon and a sprinkle of red pepper flakes to taste, and enjoy!
"Convinced @drinkspindrift Lime is what limes would want their seltzer to taste like."
Zach C.