lemon
Sparkling Cranberry Apple Spritz Recipe
Ingredients
1.

1 cup of fresh cranberries

2.

1/4 cup water

3.

2 tbsp fresh lemon juice

4.

1 1/2 tbsp honey

5.

4 cups apple cider

6.

2 cups cranberry juice (no added sugar)

7.

1 can Spindrift Lemon

8.

Prosecco(omit for a mocktail)
Directions
• Makes 6 cocktails/mocktails, or 1 pitcher
1.

Add cranberries and water to a medium saucepan and heat on low heat until the cranberries split.

2.

Remove the cranberries from the heat.

3.

Drain the water and let it cool.

4.

In a larger pitcher, add lemon juice, honey, apple cider, cranberry juice, Spindrift Lemon, and cooled cranberries.

5.

Add in ice cubes and top off the pitcher or each individual glass with prosecco if using. Cheers!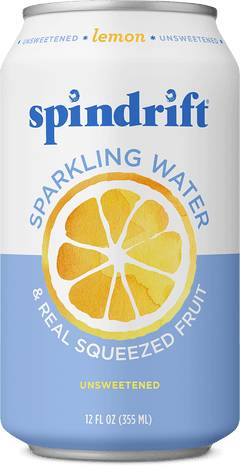 "This lemon Spindrift isn't horrible."
— Briana D.