Announcing our new 2023 Spindrift flavors!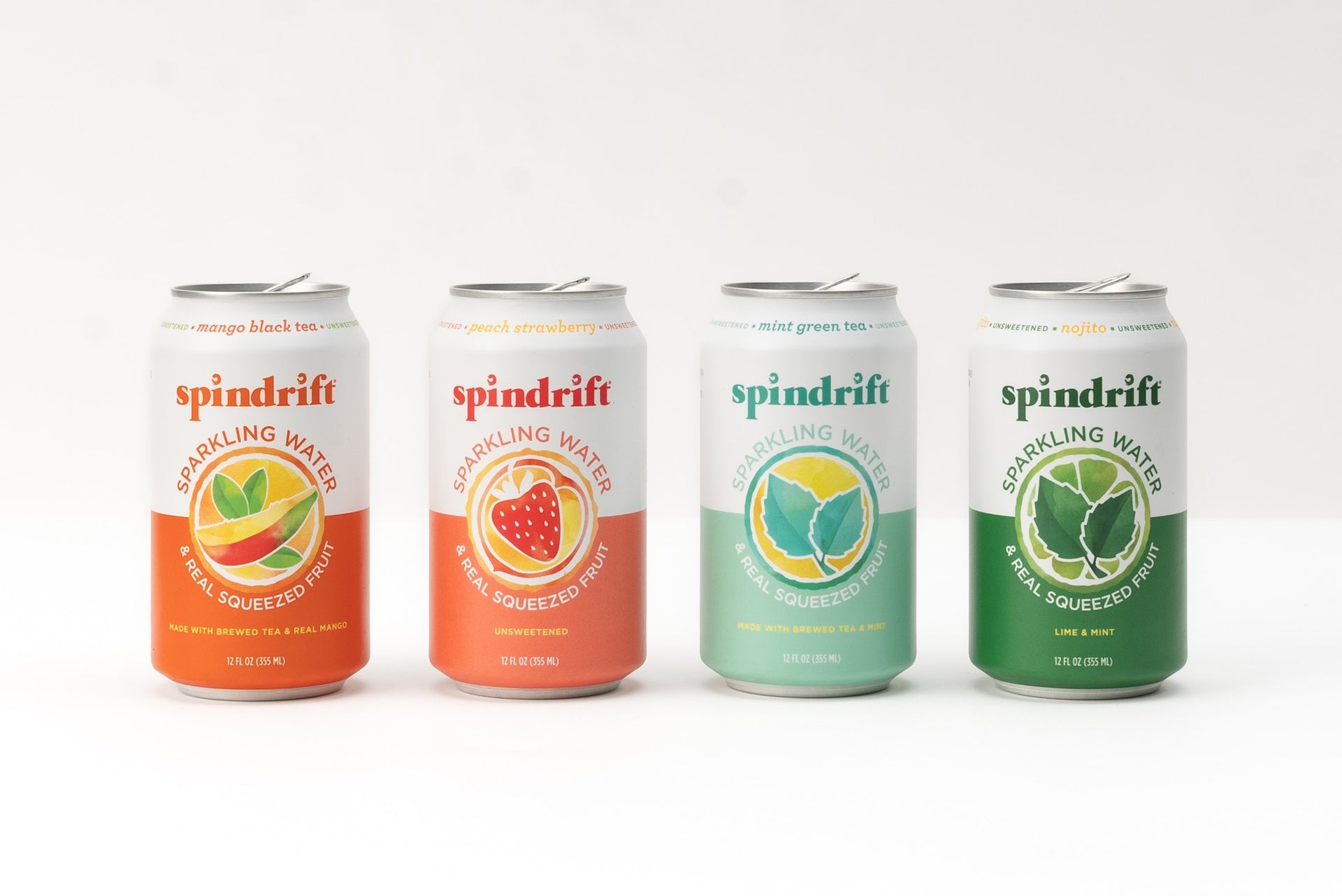 It's a big day at Spindrift HQ, as we announce not one - but four - new flavors for the coming year! 2023 will be a year of most-requested flavors finally coming to fruition and an iced tea line expansion fit for long-time fans of Half & Half. 
Usually we announce flavors right before they're launched, but our 2023 flavors are too good. We can't keep them a secret any longer!  
"Innovation is at the heart of everything we do," said Bill Creelman, our founder and CEO. "Years ago, we shook things up by introducing real ingredients to the sparkling water aisle - but now we're bringing that same innovation to other beverage categories. We started with Lemonade and Spiked in 2021 and released our first seasonal flavor Spiced Apple Cider this past fall. We love the idea of expanding creatively. What other beverage categories can we Spindrift-ify? We're asking, 'How can we offer people a more enjoyable iced tea? How could we do a mojito our way?' There are so many occasions when a Spindrift fits in perfectly, we want to continue to celebrate those occasions through innovation."
To kick off the new year, our focus will be on our new flavor: Nojito! It's light, bright, cool, and seriously drinkable. Inspired by the classic flavors of a mojito, Nojito is our first flavor that features an herb: mint. For years, the community has asked us to make something with mint and this year we're incorporating mint into two flavors! 
Like all our flavors, you can drink Nojito anytime anywhere. The ingredients are simple: real squeezed lime and a hint of mint - but the taste is transportive. Whether you know and love mojito cocktails and are looking for a non-alcoholic version or have no associations with the classic cocktail - Nojito is for everyone. It's a way for us to say: whoever you are, wherever you are, our product is for you. Real ingredients and great taste are for you. 
"For years, the community has told us that Spindrift is their go-to non-alcoholic beverage of choice. Our products are something you can offer everyone at the party no matter where they are or what they're drinking. You can pour out a Spindrift and it looks and tastes great. Nojito is a nod to that. We can take inspiration from classic flavor combinations but do them in our way: perfect for folks looking for unsweetened, non-alcoholic options that taste amazing." Bill said. 
As a brand, we are committed to encouraging our community to do what is right for them. We celebrate those who choose to abstain from alcohol for any of the many valid reasons - and  those who enjoy alcohol responsibly. We want everyone to know that there is a place for them with Spindrift. For some it's black and white - but for others, every day is different. And that's great! We are being mindful about what we choose to consume. This is why our Spindrift Spiked is just 4% ABV and why we've continued to expand our no-ABV options. 
Our next new flavor is an especially exciting one. For years, our community has asked us for a peach flavor and today, we're announcing that peach is finally making its way to our lineup!  Juicy, jammy, and delectable, Peach Strawberry is a mix of ripe peaches and sweet strawberries that make you experience summer any time of year. "When we combined peach juice with strawberry puree, we knew we had something special," said Bill. We consider it both a treat for peach lovers and we're thrilled to have found a way to bring a strawberry profile back to our lineup.
Our next two new flavors are for the iced tea fans among us. Like we did with Lemonade in 2021, we've decided to create an iced tea line extension. We're taking inspiration from Half Tea & Half Lemon and adding Mint Green Tea and Mango Black Tea. "Half & Half has been a quiet favorite among tea drinkers because it's earthy, sharp, and so drinkable. We wanted to bring more of those same notes to the forefront with our two new teas," Bill said. Mint Green Tea is made with brewed green tea, a hint of mint, and a splash of lemon: a calming mix of earthy, bright, cool, and refreshing. Mango Black Tea adds a tropical twist: a juicy pop of mango is mixed with brewed black tea and real squeezed lemon. If you love Half & Half, you're going to love these. 
2023 is going to be incredible. And - to make the most of each and every one of these new flavors - we'll be celebrating them throughout the year!
You can now find all of our new flavors available for purchase on our store. Add Nojito, Peach Strawberry, Mango Black Tea and Mint Green Tea to your order today! 
"Convinced @drinkspindrift Lime is what limes would want their seltzer to taste like."
Zach C.