mango orange
Sparkling Tequila Sunrise Recipe
Sparkling Tequila Sunrise
Want a cup of sunshine? You can literally get your fill with a tequila sunrise. This summertime classic is beloved for its bright, fruity flavor and lovely yellow and red color gradient. In our take on the tequila sunrise, we strike a balance between bubbles, booze, and real fruit flavor.
What is a Tequila Sunrise?
The tequila sunrise officially debuted in the '70s at the Trident bar in Sausalito, where The Rolling Stones first tried it before popularizing it on tour. But if you dig a little deeper, there's an earlier version of the drink that dates back to the 1930s at the Arizona Biltmore Hotel, where a customer requested a tequila drink as a refreshing poolside beverage. In any case, it's not hard to understand the tequila sunrise's relaxing appeal. You'll know a tequila sunrise when you see it: It's a vibrant yellow and red gradient drink - with a cherry on top that's optional but appreciated for the 'gram. 
So what's in a tequila sunrise? Traditionally, a tequila sunrise includes tequila, orange juice, and grenadine (that is, pomegranate syrup). In Spindrift's take on this classic, we've crafted a drink that's lower in sugar and calories and higher in bubbles than the typical tequila sunrise. At the base of the sparkling tequila sunrise is Spindrift Mango Orange, a refreshing tropical blend of real squeezed oranges and Alphonso mango puree. Like Blood Orange Tangerine, it features a vibrant color that makes it perfect for drinks such as our Spicy Tiger cocktail. 
Ingredients
featuring spindrift mango orange
1.

1-2 oz. grenadine (see directions)

2.

1/2 an orange

3.

Ice

4.

2 oz tequila

5.

Spindrift Mango Orange

6.

Fresh orange and cherries for garnish
Directions
Serves 1 • 10 Minute Prep
1.

Make grenadine (we made our own by mixing 1 part 100% pomegranate juice to 1 part sugar - then heating and stirring until fully dissolved)

2.

In a tall glass, add ice, tequila and freshly squeezed orange half. Stir.

3.

Then gently pour in the grenadine (it will sink to the bottom and create that pretty color) and top with Spindrift Mango Orange

4.

Garnish with a cherry and orange slice. Enjoy!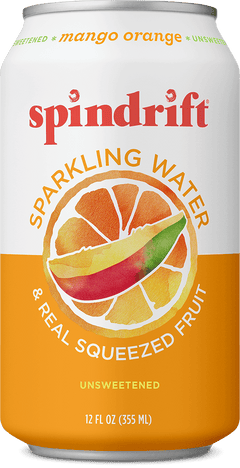 Bartender's Note*
You don't have to be up before your alarm to enjoy this sunrise. This cocktail is great for brunch or whenever you want, really. Since we use Mango Orange Spindrift instead of orange juice and homemade grenadine, this recipe is not as sweet or heavy as a traditional tequila sunrise.
"Convinced @drinkspindrift Lime is what limes would want their seltzer to taste like."
Zach C.