Top it off: Spindrift Cocktails & Mocktails Volume III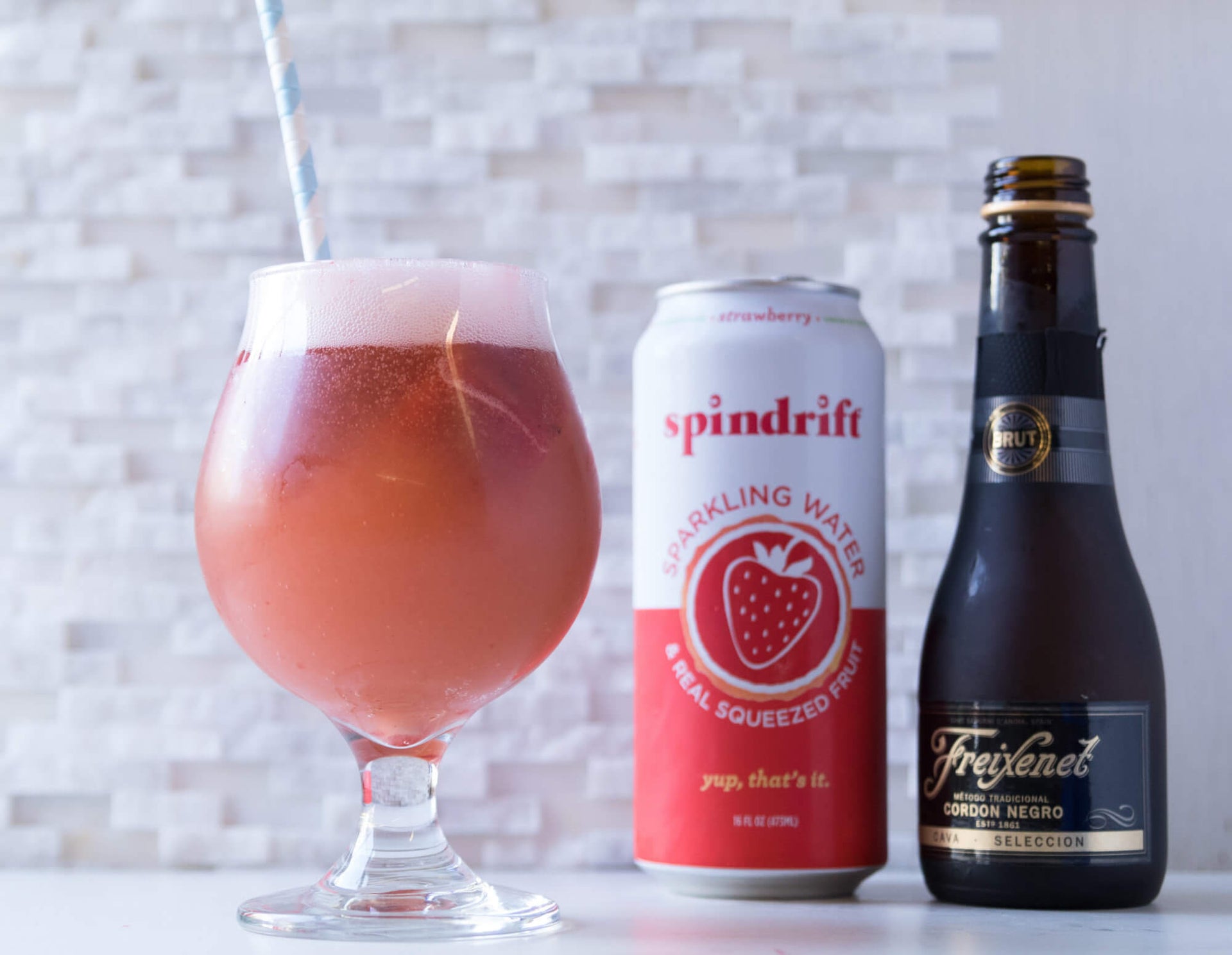 Cocktails & Mocktails
While delicious in its natural state (straight from the can), Spindrift moonlights as an excellent mixer. Whether you're looking for a new cocktail for you and your guests or you eschew spirits and want to create something non-alcoholic but fancy - there's a Spindrift for that.
Here is the third edition of our delicious drink concoctions – employee-tested and approved for you to try. All of these can be replicated without the alcohol for an equally delicious beverage. Remember the creativity is in the garnish, glass, and straw 😉 If you're looking for more drink recipes, check out
Volume I
 and 
Volume II
.
---
Just combine your favorite prosecco or champagne with Spindrift Orange Mango then garnish with a twist of orange peel, orange slice, or mango spear. It's much more subtle than a typical mimosa—but it also has much less sugar. Enjoy!
---
Ingredients:
 4 oz Sprindrift Blackberry Seltzer
1 oz thyme simple syrup (sugar & water boiled with a few sprigs of thyme)
½ oz fresh squeezed lemon juice
3 black berries (smashed)
Directions:
Shake over 2/3 cup of ice
Garnish with a thyme sprig
*Add 1.5 oz of champagne or vodka for a cocktail version. Cheers!
---
Directions:
Grab your favorite lager or ale, squeeze in 1/4 a lemon, top with Spindrift Lemon. Cheers!
---

Ingredients:
 4 thick slices of cucumber
1.5oz gin*
0.75oz elderflower liqueur*
0.5oz of simple syrup
1 lime
Cucumber Spindrift
Ice
Lime round for garnish
Directions:
Fill a shaker with ice, add cucumbers, fresh lime juice, gin, elderflower, and simple syrup.
Shake vigorously then strain over ice into a highball glass.
Top with Cucumber Spindrift and garnish with cucumber and lime rounds. Cheers!
*Omit for mocktail version
---


Ingredients:
Ice
Orange Mango Spindrift
2oz tequila*
1/2 an orange
1-2oz grenadine (we made our own by mixing 1 part 100% pomegranate juice to 1 part sugar – then heating and stirring until fully dissolved)
Fresh cherry and orange slice
Directions:
In a tall glass, add ice, tequila and freshly squeezed orange half. Stir.
Then gently pour in the grenadine (it will sink to the bottom and create that pretty color) 
Top with Mango Orange Spindrift.
Garnish with a cherry and orange slice. Enjoy!
---
Make strawberry ice by juicing or blending strawberries until pureed, then freezing in an ice cube tray. Once frozen, pop the fruit cubes in your favorite glass and top with Strawberry Spindrift. Add prosecco if you're feeling extra fancy. Cheers!
"This lemon Spindrift isn't horrible."
— Briana D.